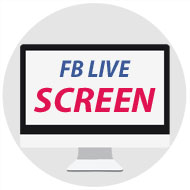 BST Go.Live Screen Capture
Share on Facebook with live broadcast what you are doing on your computer.
S BST Go.Live Screen Capture you can:
set the name of the video

set the text that appears in the Facebook status

set whether you want to broadcast the video on Facebook page, Facebook group, Facebook event, or through your personal profile

set video quality (360p, 480p, 720p)

select the display from which live broadcast is to be displayed

set the audio source if you want to use it
Live video can be broadcast for 15 minutes with a free license, or for a full 4 hours via free friend license (just like our facebook page).
Licenses

Free version
With the basic free version of the product, you can share a quiz for 15 minutes.

Free Friend version
With a free friend license, you can share a quiz for 30 minutes. You can receive it by tagging Like on our Facebook page bestsocialtricks.
Pro version
With Pro version you can share a quiz for up to 4 hours. The quiz is not showing any ad.