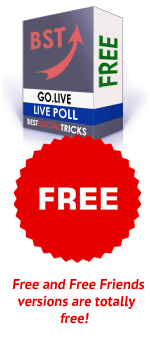 BST Go.Live Poll
Get the responses of your fans and friends on Facebook with simple live videos with a Facebook vote emoticon.
With BST Go.Live Poll you can:
Set your own question or video title
Select one or more images for each option
Choose any Facebook emoticon option
Set the background of a video that can be an image or a video
Set the Facebook status that appears above your video on Facebook
Set where the video would be broadcasted (Facebook page, event, group or your profile)
Set who can see your video (you, only your friends, everyone ...)
Set the quality of the video broadcast
View a preview before you start a live broadcast
Change the background and images during the broadcast
Licences
Free
With the basic free version of the product
You can broadcast every live video 15
minutes.
Free Friend
You can broadcast with a Free friend license
every live video for up to four hours.
You just need to like our
Facebook page facebook.com/bestsocialtricks.com
and Free Friend license will be
automatically activated.